STEP BY INTENTIONAL STEP,

Tiffany and her mom are crafting a good life.
Even before Tiffany was born, her mother Linda dreamt of the life she hoped her daughter would live - a good life, full of opportunity and friendship. In 43 years, she has never wavered in her vision.

Tiffany is a woman who is in charge of her life. She lives in her own home, and has met and made many friends over the years; her friendships are the most important aspect of her life. Along the way, Tiffany has initiated and taken advantage of many roles that have created new opportunities and have enhanced her life.
THE SUPPORT OF OTHER FAMILIES
Many years ago, Linda helped form a network of 10 families, each of whom had a teenager or young adult living with a disability. Together they spent a great deal of time imagining the future for their sons and daughters. They agreed that one of the key elements of their dream was to create a community that was mutually supportive of one another. Together they decided to create a caring community.
In the early 90's, funding was available to build new co-ops in Ontario. Their family group was incorporated and they applied for funding to build a 100 unit co-op in Pickering. They intentionally chose a building of this size because it represented the natural ratio of people with and without disabilities in the general public - 10% of the population.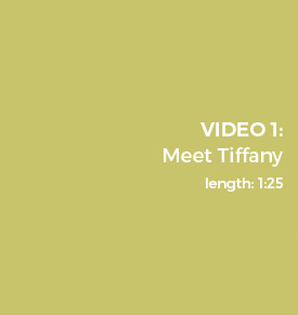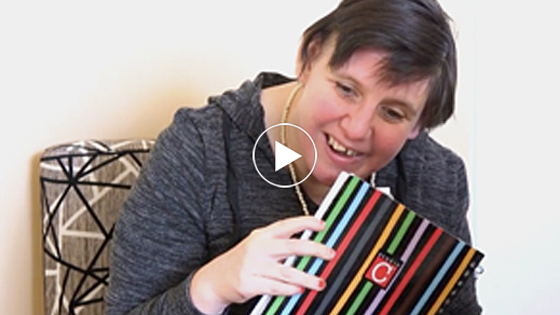 THE SPIRIT OF A CARING COMMUNITY
Linda believes that while it may be difficult to build a new co-op today, it is worthwhile for others to consider applying to existing co-ops. Many co-ops were created to nurture a deeper sense of community. As well, the spirit of community inherent to Rougemount Co-op is something others can nurture in their own communities whether they're living in a co-op or not. You don't need a cooperative to build an intentional community.
Tiffany's apartment is the foundation for her active life. Like all busy people, coming home each night after a busy day is returning to her sanctuary.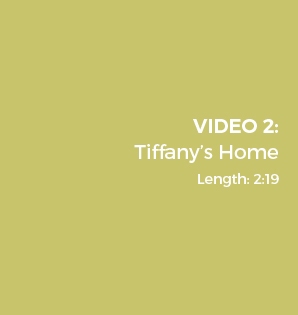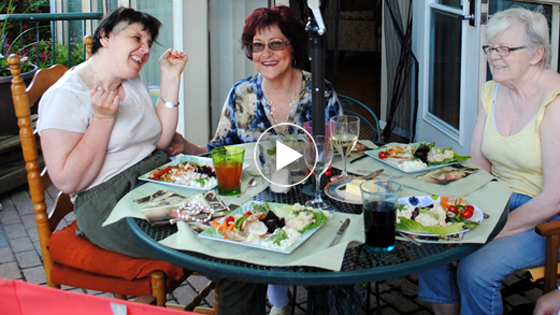 It's hard to imagine what is possible if you go down the road thinking most things are impossible.... hold on to the vision you have for your child's life. It will guide you.
~ Linda Dawe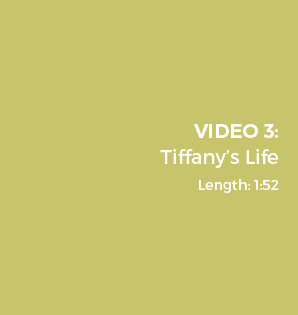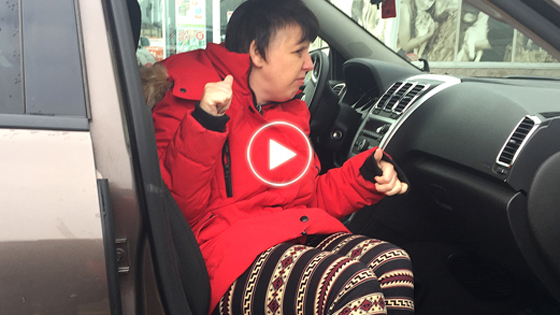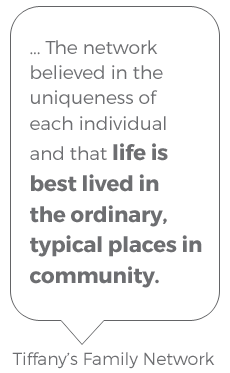 SUCCESS FACTORS in Tiffany's Life

When the co-op was initially built, the families proceeded without a funding commitment for support. They were firm in their vision and confidant they would figure it out. They supported their children themselves and used small pockets of money to fill in support gaps whenever possible. Guided by the strength of their vision, they were able to secure additional funding for support over time.

Linda feels the most critical element for the network was to define and establish a clear vision to share. Therefore each person's individual hopes, dreams and interests, as well as their vision of what a good life in community means to them individually, must be respected.
This value had a significant impact on decisions the families made together. One principle that helped guide them was that if people were to be truly supported as individuals, support workers would not be shared with others in the family network. This ensured the focus would be on the individual at all times. The network believed in the uniqueness of each individual and that life is best lived in the ordinary, typical places in community. The family network had no interest in, nor did they offer, any congregated or segregated options.

Another guiding principle was to refrain from hiring or paying a neighbour or friend as a support worker; those who were paid to provide support, were never considered or referred to as friends, as long as they were in that role. Linda and the others appreciate that it is mutual, reciprocal relationships that endure and ultimately enrich and safeguard us in life. Mutual relationships and friendships must evolve in natural and typical ways in the broader community.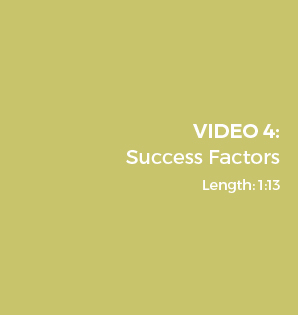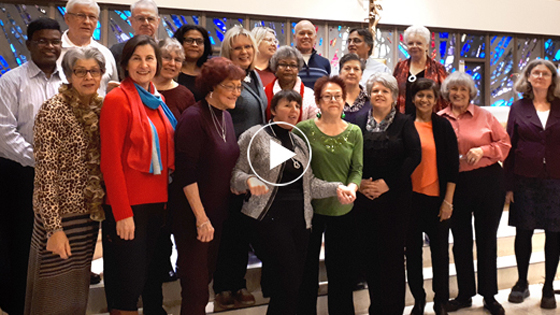 TURNING POINTS in Tiffany's Life
Nearly 25 years ago, Tiffany's mother Linda, helped form a family network which provided support, inspiration, practical ideas and opportunities to explore different opportunities with other families. She continues to participate in the family network today.

The group developed a principled framework and clear vision for each of their family members so that they would live and be seen as individuals. Some of the principles that were critical to the group include: never sharing a support worker, never offering congregated activities, and never hiring a neighbour as a support worker.

A Family Coordinator (similar to an Independent Facilitator) supported each individual and family to create opportunities and valued roles in community based on their passions and interests.

The co-op concept was initiated by the group based on their collective vision of having their sons and daughters live in and contribute to a caring community.